Karen Combs will be our guest speaker and instructor in June.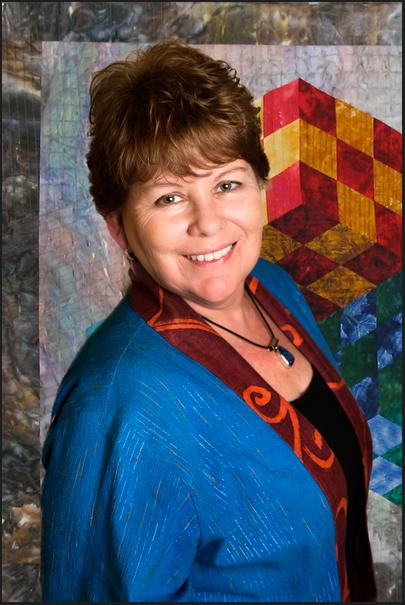 She will be presenting two very interesting and fun classes.  "More Patchwork  Illusions" will held on Sunday, June 4 from 9:30-4:00.  "Celtic Illusions" will be held on Monday, June 5 from 9:30-4:00.  Both classes will be held at Quilted Memories in Montague.  Signups for the classes will begin at our April meeting.
Karen's lecture will be held Monday evening, June 5 at our general guild meeting.
Class: More Patchwork Illusions
Sunday, June 4, 2017
Time: 9:30 a.m. to 4:00 p.m.
Place: Quilted Memories in Montague
Cost: $45 for members and $50 for non-members
Additional $16 for handouts and rotary templates
Learn all the tricks and tips to creating 3-D patchwork blocks.  You will also learn how to use color to enhance the 3-D effect and how to use different settings to create amazing quilts of illusion!
Class: Celtic Illusions
Date: Monday, June 5, 2017
Time: 9:30 a.m. to 4:00 p.m.
Place: Quilted Memories in Montague
Cost: $45 for members and $50 for non-members
Additional fee of $8 for pattern and handouts
Karen has developed a truly magical way to create pieced Celtic quilt. This is one of Karen's favorite classes because it is so easy to create amazing Celtic Quilts. Let Karen share her secrets, so you can quickly and easily create unlimited pieced Celtic quilts. Based on Karen's book, Celtic Pieced Illusions.
---
July – Jessica Kass: Quilts of Valor

 
The mission of Quilts of Valor is to cover all our warriors and combat veterans who have been touched by war or wounded with our healing and comforting Quilts of Valor.  Jessica Kass will be here to talk about the program.
---
August – Guild Picnic
---
September –  Ann Lovelace w/Lighthouse Quilt Guild
Ann Loveless is a native of Frankfort, Michigan which is located on the shore of Lake Michigan.
Ann attended Michigan State University and received her degree in Clothing and Textile Design. In 2004 Ann fell in love with the art of Landscape Quilting.  Ann's inspiration and designs come from nature and the beautiful lakes and woods of Northwest and Upper Peninsula of Michigan. Ann works from photographs and has developed three distinctive quilting techniques.
---
October –  Mary Huey from Craftsy
I've taught quilt-making for over 35 years and, as a shop owner for 26 years, I have lots of experience with patterns and fabric.  I test each of my patterns extensively with students before offering them for sale!
---
November –  PALS University
PALS University will be here before you know it! If you have a technique to share, a tool you love, how to improve, please let Joy Lamphere know and she can get you signed up for November shout4joy.geo@yahoo.com