The Patchers at the Lakeshore Threads of Friendship 2017 Quilt Show is a Huge Success
Hundreds turned out for the Threads of Friendship Quilt Show on May 12th and 13th.
PALS had another wonderful Threads of Friendship Quilt Show.  We heard nothing but great comments for this year's show.  The quilt registration went smoothly, the vendors were great, the challenge was a success, the Chinese auction and boutique were very profitable, publicity brought the crowd in, the 2 raffle quilts were beautiful, and the church ladies served a wonderful lunch.  But, the show would have been nothing if it weren't for the beautiful quilts and ALL of the fabulous volunteers. A very big THANK YOU to the PALS members (and husbands), who devoted their time to our 2017 Threads of Friendship Quilt Show.  We are only as good as our TEAM.
---
Karen Combs will be our guest speaker and instructor in June.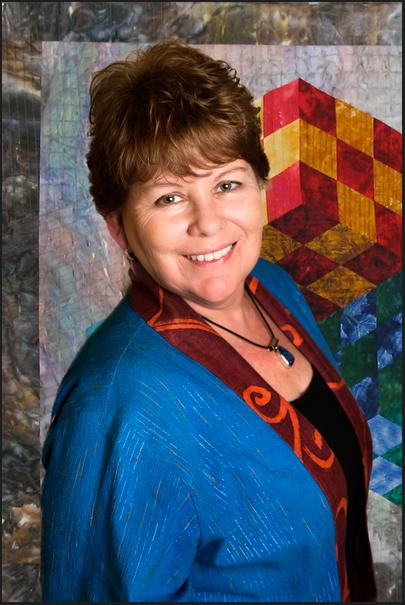 She will be presenting two very interesting and fun classes.  "More Patchwork  Illusions" will held on Sunday, June 4 from 9:30-4:00.  "Celtic Illusions" will be held on Monday, June 5 from 9:30-4:00.  Both classes will be held at Quilted Memories in Montague.  Signups for the classes will begin at our April meeting.
Karen's lecture will be held Monday evening, June 5 at our general guild meeting.
Class: More Patchwork Illusions
Date: Sunday, June 4, 2017
Time: 9:30 a.m. to 4:00 p.m.
Place: Quilted Memories in Montague
Cost: $45 for members and $50 for non-members
Additional $16 for handouts and rotary templates
Learn all the tricks and tips to creating 3-D patchwork blocks.  You will also learn how to use color to enhance the 3-D effect and how to use different settings to create amazing quilts of illusion!
Class: Celtic Illusions
Date: Monday, June 5, 2017
Time: 9:30 a.m. to 4:00 p.m.
Place: Quilted Memories in Montague
Cost: $45 for members and $50 for non-members
Additional fee of $8 for pattern and handouts
Karen has developed a truly magical way to create pieced Celtic quilt. This is one of Karen's favorite classes because it is so easy to create amazing Celtic Quilts. Let Karen share her secrets, so you can quickly and easily create unlimited pieced Celtic quilts. Based on Karen's book, Celtic Pieced Illusions.
---
Welcome to PALS

PALS (Patchers at the Lakeshore) was formed in January 1991 to nurture and encourage friendships through the education and tradition of quilting. We are all quilters – novice, expert and everything in between! We have a large and resourceful membership of about 250.
PALS meets the first Monday of each month at 6:30 p.m. at Fellowship Reformed Church, 4200 Apple Avenue in Muskegon. A special program, guest speaker or activity follows a short business meeting. "Show and Tell" is a special time at the end of each meeting, where members bring their latest projects to share with the group.