OCTOBER IS BREAST CANCER MONTH – JOIN US ON THE 3RD
We will be raffling off a beautiful "PINK" quilt to benefit breast cancer research at the October guild meeting. Tickets will be $1 each or 6 for $5. The quilt was made by Mary Warden and Cheryl Berggren and is being quilted by Darla Parks of Elegant Stitches. Help support this great cause and… maybe… win a wonderful quilt.
Also, we'll be distributing hundreds of baby quilts.  We have faith that we will have at least 350 – 400 ready to donate at our October 3rd meeting! We look forward to seeing the kits we handed out come back finished and find out what you thought of the patterns we picked. We put a lot of time and work into making kits, we hope you enjoy making them. We are still in need of cotton fabric yardage to be used for backings, which are our biggest challenge. Keep up the great work ladies! We know lots of you are working very hard to help our guild help these organizations.
The organizations invited to receive baby quilts this year are: Catholic Charities, The Rescue Mission; Women's and Children's Division, Every Women's Place, Love Inc., and Muskegon Pregnancy Services. We are hoping they will all participate.
"Baby Quilts" is our guild's service project, intended to give back to people of the community who have less and to give something that, hopefully, will be cherished for many years to come. We hope our love of quilting is passed on to the recipients of the quilts and someday they may take up quilting and pay it forward. In order to receive a baby quilt pin, a member is required to turn in two baby quilts for each year. We are blessed to have some members who have far exceed that requirement. They pick up kits every meeting and return quilts every meeting, and sometimes not just one or two. This is how our numbers grow and we hope many of you that have not donated will consider making two quilts a goal for the coming year.
---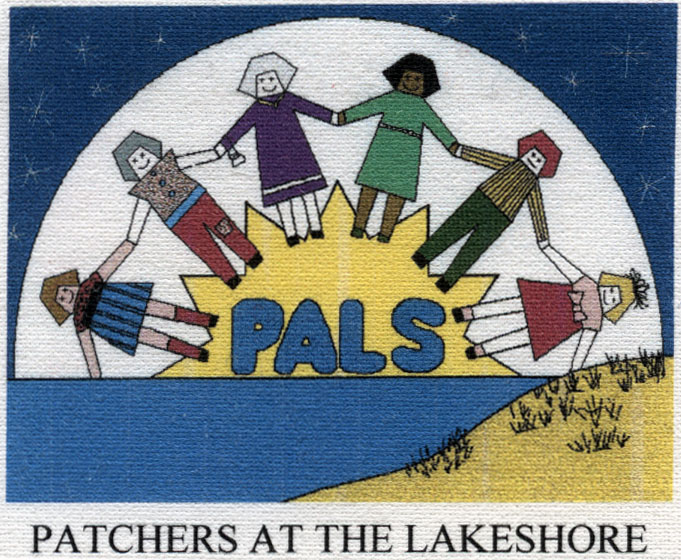 PALS (Patchers at the Lakeshore) was formed in January 1991 to nurture and encourage friendships through the education and tradition of quilting. We are all quilters – novice, expert and everything in between! We have a large and resourceful membership of about 250.
PALS meets the first Monday of each month at 6:30 p.m. at Fellowship Reformed Church, 4200 Apple Avenue in Muskegon. A special program, guest speaker or activity follows a short business meeting. "Show and Tell" is a special time at the end of each meeting, where members bring their latest projects to share with the group.